Profile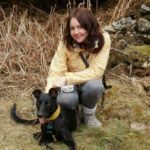 Kelly Rushton
My CV
Education:

The University of Manchester, Lancaster University, Fairfield High School for Girls

Qualifications:

PhD (Neuroscience), Honours Degree (2.1) (Biological Sciences), 5 'A' Levels in Biology (A), History (A), English Literature (A), Chemistry (B), General Studies (A), 11 GCSE's (1 A* and 10 A's)

Work History:

The University of Manchester (2012 – now), National Institute of Health Research (2011 – 2014), Camp Hilltop, New York(!)

Current Job:
About Me:

I'm a happy, outdoorsy person who loves dogs!

Read more

I live in the hills outside of Manchester with my family – I have two Children – Ghillie, age 4 and Flora, age 2. I also have two dogs called Sam and Ruby – Sam only has 3 legs!

I love being outdoors, and I love animals. My favourite food is chocolate – obviously!! My favourite place to go on holiday is Disney World in Florida – last year we ended up in a big Hurricane!

I know all the words in The very Hungry Caterpillar off by heart  – I also know all the words to all the songs in Frozen 🙂

Read more

I do research about mental health – that is all about our feelings, our emotions, our thoughts and our moods. Mental health is just as important as our physical health, even though you cant see it. Sometimes peoples mental health can affect how they get on in their lives, and they need to get help from doctors and nurses. Part of my work is about how doctors and nurses help people, and working out new ways of helping that can work better for people.

I am also very interested in how animals can help people with mental health problems and have done some work finding out how pets can be important for helping people.

One of the other things I do is involve patients in in our research so that we know we are researching the right things. I also get involved in things like flashmobs to tell people about our work – I danced all around Manchester a while ago in a big group, you can watch us here: 🙂

My Typical Day:

After taking my children to nursery and school, I usually go to my office at the University and do lots of different things like interviewing patients, writing about our work, giving talks to people at meetings. No two days are the same!

Read more

I do lots of different things day to day in my job; it depends what stage of a research project we are at. If we are at the beginning of a project, I might spend a lot of time speaking to patients, doctors and nurses and other health professionals while I collect data – information for the project. Sometimes I see people at the University and sometimes I get to travel around to different towns and cities.

If we are in the middle of a project I might spend more days at my computer in my office or working at home analysing the data – that means making sense of the information that I have collected.

Towards the end of the project I will do lots of different things to share what we have found – I might be writing papers – that's how we explain what we have done and what we have found. I might also go to conferences and meetings to tell people about our work. We also do fun things like create cartoons for YouTube to tell the public about our work, like this one here:

What I'd do with the prize money:

Organise an event with some dogs!
My Interview

How would you describe yourself in 3 words?

Friendly, silly, kind.

What did you want to be after you left school?

A vet

Were you ever in trouble at school?

No I was very good - I got called a swot but look where I am now :-)

Who is your favourite singer or band?

I dont think I have one - I'm a bit uncool...

What's your favourite food?

Chocolate, ice cream, sweets - anything with sugar...

If you had 3 wishes for yourself what would they be? - be honest!

1. Move to the Highlands of Scotland 2. Open an animal sanctuary 3. Live happily ever after with my family and lots of rescued animals

Tell us a joke.

What was the first animal to go into space? The cow that jumped over the moon :-)
---
---
---