Students! Did you do your profile survey? Check your email for a chance to win a £20 voucher and tell us what you think now!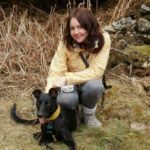 I absolutely could not believe when my name was announced as the winner of the Fermium Zone – I never in a million years expected to win it – there were so many fantastic scientists in the zone and such amazing questions from the students over the two weeks. It has honestly been the best event I have ever taken part in.
Over the course of the two weeks I have learned so much, I was asked so many intuitive questions by students about my work that I had never considered before – young minds are amazing at seeing things in such a raw way. I was in awe at the intelligence of the students – had I not known their age I would have guessed them to be much older. They tested my knowledge on so many things and I remembered parts of science that I thought I had forgotten! I also learned so many interesting things from the other scientists in the zone – it makes you realise how vast an area science is, and how young people interested in a career in science have countless options available to them and routes they can take.
A couple of the things that I was asked lots of times which have really stuck with me are 'do you have to be super clever to be a scientist' and 'do people make fun of your job or think you are a geek'. My answer is NO and NO!!! You don't have to be super clever, you just need to have an interest and to try your best – ask questions and don't ever worry what people think of you liking science – we are so lucky to be able to do jobs that we love and that are so exciting – and once you're older everyone just thinks being a scientist is really cool!
I want to thank the students that have taken part in this event because they have genuinely changed my whole outlook on science and work, and have given me renewed passion for science communication and engagement with young people. For anyone working in science who is considering taking part in this – go for it – you won't regret it. Everyone involved, the scientists, the moderators, the staff and students from schools – has been fantastic, and I couldn't have had a better time if I had tried.
Scientists! If you'd like the chance to win funding for your own public engagement work, apply for the next I'm a Scientist, Get me out of here: imascientist.org.uk/scientist-apply